A total of 240 outstanding honorees have won Ton Duc Thang Awards since 2000. The award not only honors creative values but also serves as a launching pad to help workers and engineers fulfill their passions and creativity.
This year's Ton Duc Thang Awards ceremony co-founded and implemented by the SGGP Newspaper and the Ho Chi Minh City Labor Confederation is expected to take place on August 19.
Most awardees are technicians, managers and workers who are creative in applying advanced technology to improve and create cost-effective production techniques to solve new requirements; made outstanding contributions to their companies' overall achievement and the city's solutions for existing problems; plus, their initiatives have been applied in many factories around the world.
For instance, 33-year-old Ho Vinh Phu, a workshop manager of Jabil Vietnam Company, has made tens of initiatives to improve workers' productivity and product quality after only 8 years of working. Manager Ho Vinh Phu revealed that he is most interested in the initiative 'Improving working capacity and model of supplying materials for ESL products'.
During working in the production lines, he realized that the capacity of the lines could not achieve their maximum product output as the designed capacity and the supply of raw materials were always interrupted, leading to line stoppage and unsatisfactory output.
He and his co-workers decided to redesign the material distribution process, improved the movement diagram, and standardized stages, especially optimizing the space, rearranging the area of machinery and equipment on the line, reducing product quality inspection time. After more than a month of working on the new design of a production line, they introduced the first test version, said Phu.
After three months of improving the trial version, Phu and other peers were instructing workers to operate the new line which was designed to increase from one product quality testing station for one line to two stations for one line. Their new production line has doubled output and reduced 20 percent of manpower. Their collaborative invention has benefited the company more than VND7 billion (US$293,439). Jabil Vietnam Company has applied Mr. Phu and his colleagues' inventions in many other factories.
Especially, in 2022, Manager Phu's initiative "Improving working capacity and material supply model for ESL products" entered Jabil initiatives' top 2 in Asia and the top 8 in globally. Up to now, this initiative has been applied to suitable lines.
Another young man who is working at a multinational corporation based on the High-Tech Park of Ho Chi Minh City was also selected for the award. Technician Vo Duy Phuong in the Technical Repair Department of Intel Products Vietnam Company has made many marks with his creativity. Though he is responsible for inspecting and repairing factory equipment, he always tried to improve the equipment to best serve the overall work.
In the past, when factory equipment was damaged, technicians had to bring detectors for each part to check. Due to manual testing, it takes a lot of time, plus having to send it abroad for repair costs the company a lot of money. However, in recent years, more and more equipment damaged requiring on-site repair to ensure production operations. In 2019, technician Phuong proposed to research equipment that can support fault detection on the spot and right after his proposal was supported by company leaders, he studied a lot of documents on machine structure.
After 2 years of studies, he has been testing many versions and by the end of 2020, his invention 'Tools for repairing and loading test equipment' was put into operation. The first version only checks for a few minor bugs, then it is gradually upgraded and updated regularly. To date, the tool has screened all errors on the device.
Talking about his invention, he said when something goes wrong, the technical department only needs to attach the test tool to the device, the software will filter and identify the error, and the technical department will repair it accordingly. Instead of taking more than a week to send it overseas for repair, now it only takes us 2 hours to fix the error. Up to now, the above tool has been applied by Intel Corporation's factories around the world.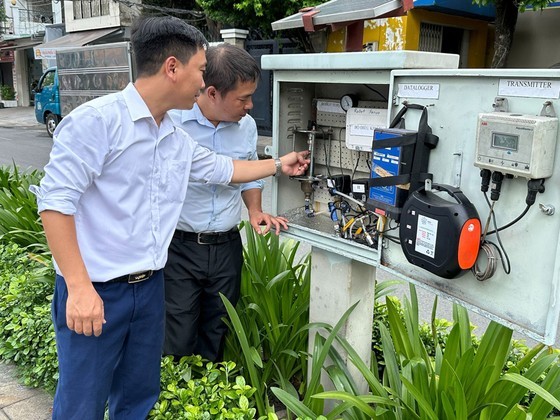 Mr. Nguyen Trong Nhan, an employee of Phu Hoa Tan Water Supply Company instructs a colleague on the operations at the DMA signal cabinet. (Photo: SGGP)
In addition, Mr. Vo Duy Phuong has many other initiatives that are being effectively applied at the factory, many old components are converted by him to use for new equipment. Manager of Intel Products Vietnam Company's Department of Technical Repair Nguyen Cong Hoang said that Phuong is a person who is passionate about carrying out research and willing to learn new things. He has come up with a lot of highly applicable initiatives that have brought very good results to the factory.
One more man was selected for the honorable award. Since working as a contractor for several projects for the city's water industry, Mr. Nguyen Trong Nhan has thought that many activities need to be improved to make workers' jobs more convenient. Therefore, when he is working at Phu Hoa Tan Water Supply Company, he soon proposed to move the pilots in the tunnel to the DMA signal cabinet because at that time, to open the pressure booster button from the pilots, the company had to send cranes and pumps to open the hatch cover.
Mr. Nhan remembered the basement was full of mosquitoes and bad odors, affecting the construction and the surrounding environment. Therefore, he proposed to move the pilots up to facilitate workers' jobs and reduce costs. Realizing that his proposal benefitted the company, leaders gave the green light to implement it.
At the workplace, Mr. Nhan has regularly conducted research in a bid to improve workers' jobs.
Especially, during the Water Science and Technology and Innovation Week in 2023, Mr. Nhan and his colleagues introduced the initiative of an automatic valve opening and closing controller applied to low-pressure areas. Since the application of this solution, when there is a problem with the operation of the pilot pressure regulator or when there is a fire or water pipeline failure in the area, staff who are responsible for managing the pipelines can sit on the spot to adjust and increase the pressure from a distance instead of running to the scene to open the valve manually like before.
Talking about Mr. Nhan's initiative, Director of Phu Hoa Tan Water Supply Company Duong Van Hoa said that Mr. Nhan has had many initiatives for work efficiency. The company also encouraged him to make more initiatives to be applied in practice. It is the initiatives and creativity of employees that have helped reduce the unit's water loss rate in the first 6 months of 2023 to 5.63 percent, the lowest level in the Saigon Water Supply Corporation.
Source: en.sggp.org.vn